Almost 36 years ago, football history was made during the 1986 World Cup held in Mexico. Argentina faced England in the quarterfinals and Diego Maradona, the superstar with number 10 on his back, did the unthinkable: he scored the most controversial goal in the history of the sport — a leaping "header" assisted by his own hand, not visible to the referee, that flew over the English keeper and into the net, and forever became known as the "Hand of God".
At the end of the game, Steve Hodge, an English midfielder that suffered the wrath of Maradona's dribbling skills all game, swapped shirts with the football legend. Argentina went on to win the World Cup and Hodge, although disqualified, ended up with one of the most important and unique trophiesshirts in football history.
Hodge, in talks with newspaper La Nacion said, "He gave it to me in the tunnel after the game and I put it away in my house for 16 years. Later I donated it to the National Football Museum. I never washed it." Now, for the first time, anyone with a sufficient amount of money will be able to take it home. 
From April 20 to May 4, online bidding for the shirt will be open and the relic will be on public display at Sotheby's New Bond Street gallery in London. The bid will start at £3 million (USD $3.9 million).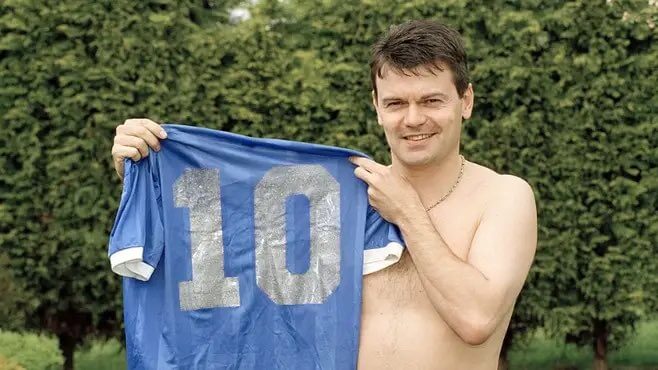 The "Hand of God" and, in consequence, that shirt, have transcended the world of football to symbolize one iconic moment of the second half of the 20th century.
It has an important meaning both to the English and Argentinians, but the South American nation arguably  feels more connected to  it. The match was played almost four years to the day after the end of the South Atlantic War, a 10-week undeclared armed conflict between Argentina and the United Kingdom for control of Las Malvinas islands.
Taking the Cup back to Argentina after the war, coupled with the recent return to democracy in 1983 after the country's military dictatorship, came together to symbolize progress and optimism for Argentinians. 
Today, Maradona, who died in 2020 of acute pulmonary edema, is a legend across the world of sport, and for some in Argentina, a deity.
Dalma Maradona, the midfielder's eldest daughter, told a local radio show that, "The shirt they are trying to sell is the one used by my father during the first half," clarifying that Diego scored the two historical goals during the second half of the game.
"My dad once told me: 'How am I going to give him the most important shirt of my life?'"
Watch Diego Maradona's "Hand of God" goal: