Buenos Aires, Argentina — Following the Libertarian firebrand Javier Milei's second-place finish in Argentina's October 22 general elections, which forced a run-off with Peronist candidate and current Finance Minister Sergio Massa, members of the country's main center-right opposition coalition, Juntos por el Cambio (JxC), have split between supporting the more radical Milei, and sticking to its more traditional brand of conservatism.
Ahead of the November 19 run-off election, two important JxC figures, former President Mauricio Macri and former presidential candidate Patricia Bullrich, both threw their support behind the controversial Milei, apparently without the wider consent of their coalition.
Less than 48 hours after the election, Bullrich gave a press conference in which she announced that she and Macri had reached an agreement with Milei during an informal meeting at the former president's home.
"This moment challenges us not to be neutral," said Bullrich, who also serves as the head of the center-right Republican Proposal (PRO) party. "Argentina cannot begin a new cycle led by Massa, that would imply for our country a new stage dominated by corrupt populism that would lead to its final decline."
Full details of the agreement between the JxC figures and Milei have not been reported, however, Bullrich's PRO party confirmed two main issues they'll focus on along with Milei's La Libertad Avanza (LLA) political party.
The first is JxC providing "the muscle" that Milei's team needs to monitor the transparency of the electoral process — alluding to Milei's supporters' claims that the general elections in October were rigged. (Claims of electoral fraud have become a popular tool for far-right populists like Donald Trump and Jair Bolsonaro to explain losses).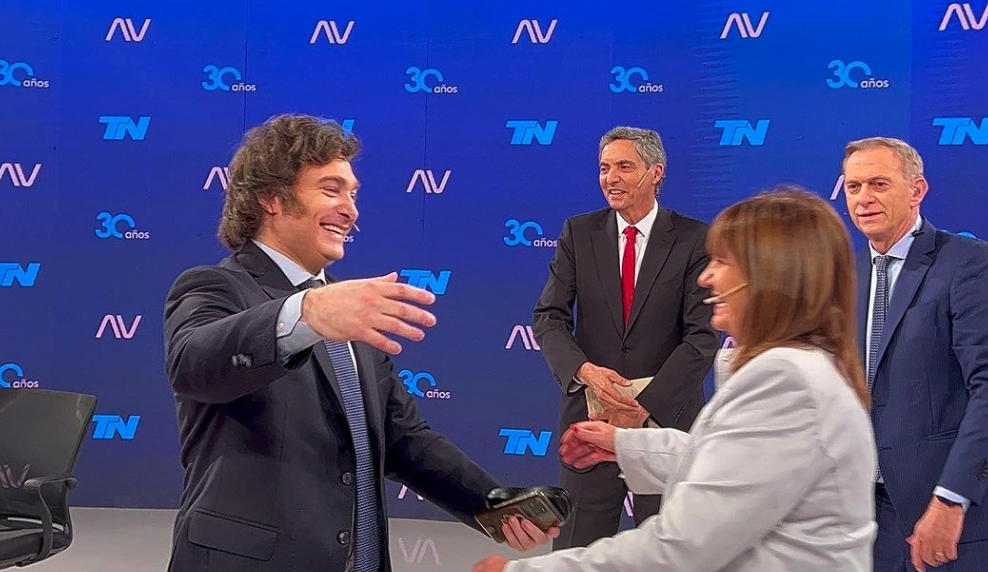 Guillermo Francos, who left the Inter-American Development Bank (IDB) in August to join Milei's campaign, told a local radio station that there was "suspicion that the election was not transparent," according to Clarín.
During the radio interview, Milei also named some economists close to Bullrich who could end up as part of his cabinet if he's elected.
"In the JxC groups there are super talented economists," said Milei.
The announcement of Bullrich's and Macri's alignment with the Milei campaign caught other JxC coalition members off guard.
A day after Bullrich made her statement, Gerardo Morales, governor of the Jujuy province and secretary general of the Radical Civic Union (which is part of JxC), said, "What both Mauricio [Macri] and Patricia [Bullrich] have done seems very serious to me. It makes me ashamed. They are outside the coalition, it is a lack of respect for radicalism."
Buenos Aires' Mayor Horacio Rodríguez Larreta, who lost to Bullrich in the JxC primary elections, said, "I have a different position [than Bullrich's]. I don't know what they arranged or what they talked about," he claimed, saying the meeting took place in "midnight secrecy."
The mayor also called for neutrality ahead of the presidential run-off, saying, "Both options are bad for Argentina. But what I say is my personal position, the vote belongs to the people and everyone is free to choose what to do with their vote in the runoff."
The fate of Juntos por el Cambio after this high-profile split remains unclear.
Darío Lipovetzky, a provincial deputy for the province of Buenos Aires said, "After the runoff we will have to reunite, debate, self criticize and see if there are values left for us to remain united."