Buenos Aires, Argentina — President Alberto Fernández met with his Brazilian counterpart, Luiz Inácio Lula da Silva, to help secure new investment for the country and to negotiate currency swap mechanisms to strengthen Argentina's Central Bank.
The meeting took place in Brasília on Tuesday at Palácio da Alvorada, the official residence of the president.
"We are going to put our focus on Brazil creating a mechanism to finance Brazilian exporters," said Daniel Scioli, Argentina's ambassador to Brazil, in talks with Radio Nacional. "Now, with Lula, everything is easier as he shares with Alberto Fernández the conviction that together we are bigger in this international context," Scioli added.
Fernández himself said, "I celebrate and value the explicit support that President Lula has given us as a country and government. He has taken the decision of helping Brazilian companies to keep exporting to Argentina."
Brazil and Argentina have been longtime regional partners. During 2022, Argentine exports to its neighbor were more than USD $11.5 billion, while Brazil exported nearly USD $16 billion worth of goods to Argentina.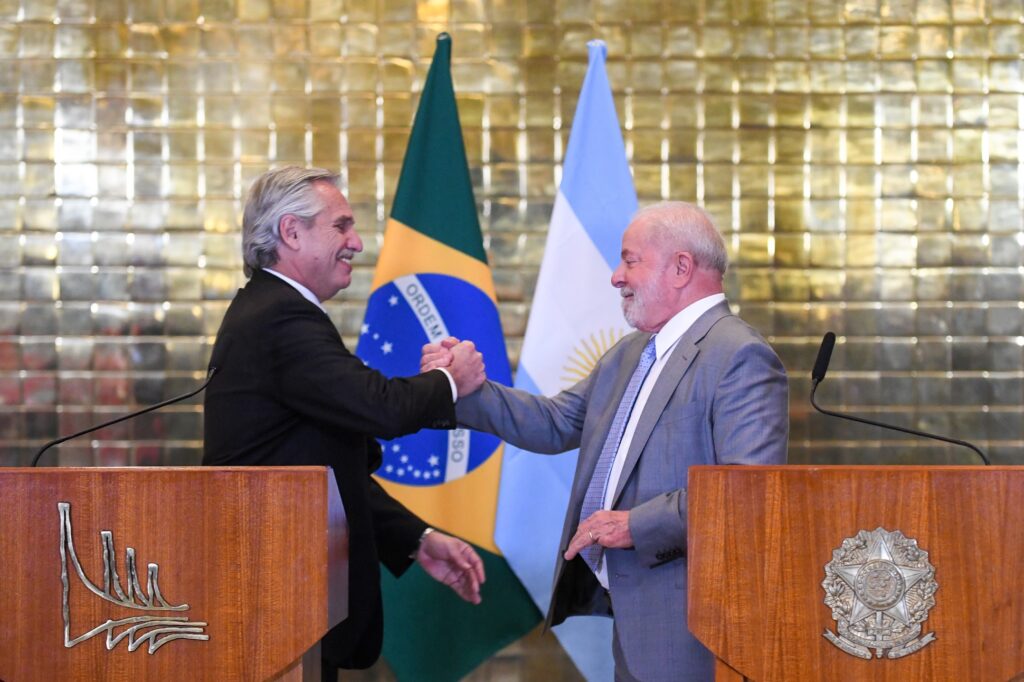 During the meeting, the heads of state discussed a plan to help repay Argentina's debt to the International Monetary Fund. "We are rediscussing with the Fund the program that we committed to at the time, because objectively the conditions have changed, not only the war, but also the drought. And knowing that we can now count on the support of Brazil is very important for us," said Fernández.
"I intend to talk, through my finance minister, with the IMF to remove the knife from Argentina's neck," Lula added. "The Fund knows how Argentina got into debt, it knows who it lent the money to, therefore it cannot continue to pressure a country that only wants to grow, create jobs and improve people's lives."
Regarding the possibility of a currency swap to start paying for exports and imports in Chinese yuan between both countries, the minister of Economy, Sergio Massa, and his counterpart, Fernando Haddad, will reportedly keep searching for a viable solution next week.
The deal would be a relief for Argentina's Central Bank as it would stop using US dollars for those transactions while Brazilian companies would have financial backup from their National Treasury. "We need to help the Brazilian businessmen that export to Argentina. We want our companies to keep growing and selling," said Lula. Fernández travelled to Brasilia with the minister of Economy, Sergio Massa, his Chief of Staff, Agustín Rossi, the Foreign Relations minister, Santiago Cafiero, the minister of Social Development, Victoria Tolosa Paz and Argentine ambassador to Brazil, Daniel Scioli.