Jewish community leader Amos Linetzky called on Argentine authorities to deliver justice for the 1994 bombing of the AMIA Jewish Community Centre on Monday, the 28th anniversary of the attack.
Mr. Linetzky, the current president of the Israeli Argentine Mutual Association (AMIA), criticized the government's handling of the investigation into the deadliest terrorist attack in Argentina's history. The investigation has so far not resulted in any arrests despite Interpol warrants being issued for high-ranking officials in Iran's government suspected of organizing the attack.
"It is very difficult to explain what has not happened in the past 28 years," said Mr. Linetzky. "The AMIA file is one of the most shameful reflections of Argentine history and one of the great debts of democracy."
The AMIA Bombing
On July 18, 1994, a white van filled with explosives crashed through the entrance of the AMIA building, killing 85 people and leaving around 300 injured.
At the time, investigators accused Hezbollah — a Lebanese politcal party and militant group backed by Iran and designated a terrorist organization by several countries including the United States and European Union — of carrying out the attack.
In 2006, then federal prosecutor Alberto Nisman formally accused the Iranian government and Hezbollah of planning and carrying out the bombing. In 2007, several Iranian officials were placed on Interpol's wanted list, however, so far none have been captured, and the investigation stalled.
Nine years later, Mr. Nisman was preparing to appear before Congress to present evidence that former President Cristina Fernández de Kirchner (2007 to 2015) had covered up Iran's alleged role in the bombing when he was found shot and killed in his apartment. While some forensic experts have said that Mr. Nisman killed himself, in 2017, a federal judge ruled his death a homicide. Mrs. Fernández de Kirchner is currently serving as the Vice President of Argentina.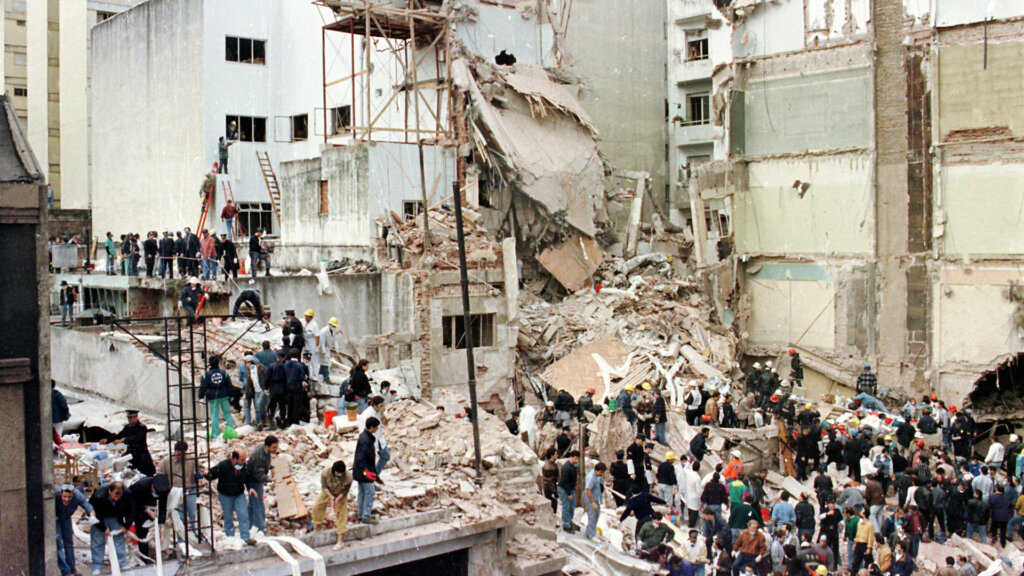 Heightened Tensions Amid Venezuela-Iran Airplane Controversy
The Jewish community leader's comments and the anniversary of the bombing come weeks after a Venezuelan aircraft with suspected links to Iran's Revolutionary Guard was detained in Buenos Aires en route to Montevideo, Uruguay.
The aircraft that was carrying autoparts was overmanned, according to national authorities. It allegedly carried 19 people — 14 Venezuelans and five Iranians. The plane's pilot, Gholamreza Ghasemi, is reportedly being investigated by Argentine authorities for his alleged links to the Revolutionary Guard's elite Quds Force.
"The plane affair shows that Argentina is the same as it was 30 years ago. Our borders are still permeable," Mr. Linetzky commented.
An official ceremony marking the anniversary of the bombing was held on Monday, the first time since the COVID-19 pandemic.
Outside the reconstructed AMIA building at exactly 9:53 AM, a moment of silence was held, followed by the reading aloud of the names of all 85 victims who lost their lives.