Right-wing President Jair Bolsonaro was sworn in yesterday, January 1, a move that is likely to see great changes in the all sectors of the country as well as having repercussions across the Latin American region.

The inauguration, which took place in the modern capital of Brasília, saw Bolsonaro take oath in front of Congress and then proceed to the Planalto Palace, where he received the presidential sash from Brazil's former leader Michel Temer.
Before the formalities, however, the new president rode through the streets of Brasília alongside his wife Michelle in an open-top Rolls Royce, complete with a tight team of jogging security guards, waving to a cheering crowd of over 100,000 people.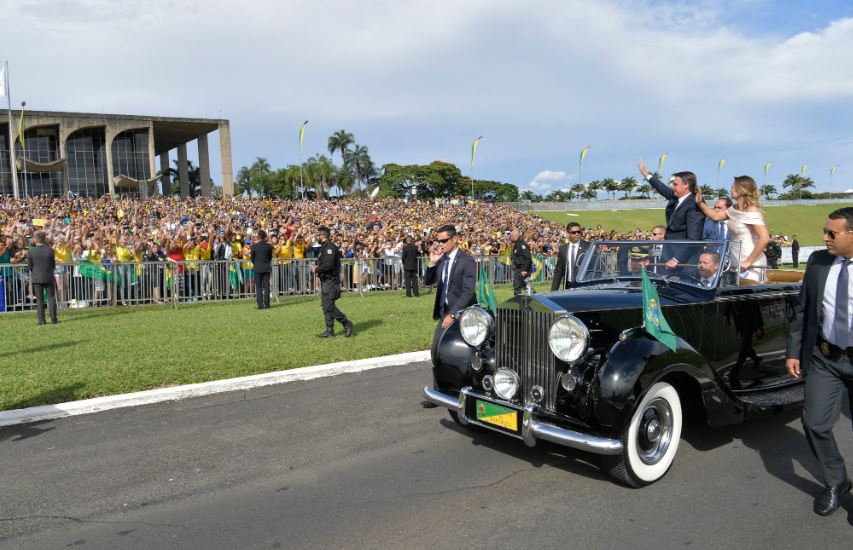 His inaugural speech pledged to rescue Brazil from the "most serious crisis in [its] history," whilst building a "fair and more developed nation."

Under his leadership, which he promised would represent a "new chapter," for the country, he declared his intentions to "liberate [Brazil] from Socialism and political correctness," promising to combat crime, corruption, "irresponsible economic policies and the stranglehold of ideology."

In light of the assassination attempt Bolsonaro survived last year at a campaign rally, security at the event was unsurprisingly tight, with a heavy military and civil police presence on the streets. According to news outlet France 24, some 3000 policemen were out in force.

Despite the lack of female presence in his new presidential cabinet, from which there was just one woman present on a stage full of men, Bolsonaro's wife and new First Lady had the opportunity to speak at the ceremony. Much to the surprise of many, Michelle delivered an emotional speech in sign language, interpreted by a female.
Reactions to Bolsonaro's inauguration were, as ever, polarised. His supporters turned out from all over the country, some flying in from distant cities for the occasion. Others seemed to continue their New Year's Eve celebrations over to the following day as a festive atmosphere characterised the occasion.

Speaking to UK newspaper The Guardian, Eliana Rabello who had flown into Brasília from the state of Espírito Santo, along with 12 of her Bolsonaro cap-wearing family members, described the new president as "hope for Brazil" and played down his previous extremist comments.
As expected, the first international leader to congratulate Bolsonaro was US President Donald Trump, who praised his inaugural speech via Twitter. Even during the ceremony, Brazil's new president found the time to reply, "together, under God's protection, we will bring more prosperity and progress for our people," he wrote.
However, critics of his controversial policy plans – which include more laxe gun laws, for example – questioned his son, Carlos Bolsonaro's decision to tweet a violent video which showed his father's fondness for the military, use of weapons and no-nonsense rhetoric in the days leading up to his inauguration.

At the end of last year, minority groups such as the LGBT community who claim to be afraid of Bolsonaro's government and what it will mean for their rights, rushed to get married out of fear that they might lose the right to under his new leadership.

Bolsonaro's election will have direct consequences on Argentina's economy. Most pressingly, it is as yet unknown how the newly-inaugurated president will manage Brazil's role in trade bloc Mercosur, for which Mauricio Macri will be president during the first six months of this year. Brazil is Argentina's main trading partner, but Bolsonaro has previously made comments about opening new trade links, intimating that the country may be looking to reduce its involvement in Mercosur.
For now, however, Bolsonaro and his Vice President Hamilton Mourão face the high expectations of those who voted for him, believing him to be the man to turn their country around through a return to more conservative policies, reflective of a period in Brazilian history that has already passed.
To end his inaugural speech, Bolsonaro echoed the words that characterised his presidential campaign. In a swipe at leftist parties, who he believes are responsible for Brazil's downfall, he held up the country's flag together with Mourão and said "this our flag, which will never be red….only if our blood is needed to keep it green and yellow."