After publication of this article, the Argentine government reported that the suspected case has been confirmed as monkeypox.
Argentina's Ministry of Health reported on Sunday the country's first suspected case of monkeypox, a virus that until recently had been concentrated in Africa, but has now appeared in countries including the United States and in Europe. 
The patient is a man that lives in Buenos Aires and traveled to Spain between April 28th and May 16th, according to the ministry.
According to reports, the patient went to a health center exhibiting symptoms closely related with monkeypox, including showing pustules on different parts of his body as well as a fever. According to the ministry led by Carla Vizzotti, he is "in good general condition, isolated and receiving symptomatic treatment."
To carry out the analysis in order to confirm the case, samples were taken for etiological diagnosis, which are being analyzed at the Dr. Malbrán National Reference Laboratory in the City of Buenos Aires.
On Saturday, the World Health Organization reported 92 confirmed cases vía laboratory tests and 28 suspected monkeypox cases in 12 countries where the disease is not endemic: Australia, Belgium, Canada, France, Germany, Italy, The Netherlands, Portugal, Spain, Sweden, United Kingdom and United States.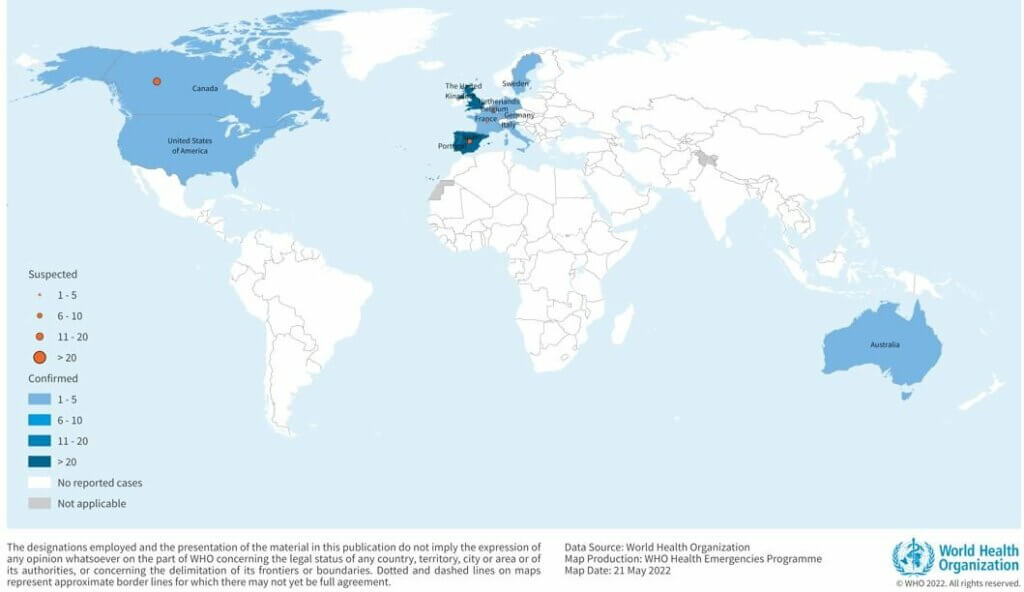 There are two monkeypox virus main strains, the West African and the Central African. Until Sunday, the West African — that is reported to be the mildest — was identified in the confirmed cases of the Northern Hemisphere.
"In these cases, a link with endemic areas has not yet been confirmed. The extent of community transmission is still unclear at this stage and therefore there is a possibility of identifying more cases. However, it should be noted that the monkeypox virus is considered to have moderate human-to-human transmissibility," the health ministry said in a press release.
According to this document, transmission during sexual intercourse with infectious skin lesions seems to be the most probable way of contagion. "Given the unusually high frequency of person-to-person transmission seen in this event, the likelihood of further spread of the virus through close contact is considered high," they said.
The ministry also issued a series of recommendations for the general Argentine population.
Every person that shows compatible symptoms (especially lesions) and has traveled to countries with confirmed cases and/or has had contact with a suspected, probable or confirmed patient, must isolate themself, take respiratory protection measures and immediately report it to a health center.
Close contact with infected people is the most important risk factor for the infection of the virus. Exposure to a case is considered if:
The person has presented exposure without respiratory protection.
Direct physical contact, including sexual contact.
Contact with contaminated materials such as clothing or bedding.
According to a preliminary study released by the ministry on Monday, it is "highly likely" that the patient has monkeypox. "Viral particles compatible with Poxvirus of Orthopox gender were found, a virus that doesn't circulate in Argentina," read the public statement. However, other medical studies are needed before confirming the first monkeypox case in Argentina.