Tito is an urban electric vehicle model fully manufactured in Argentina by Coradir. Developed in the western province of San Luis, it can drive up to 100 kilometers with one full charge and it has space for four people.
"TITO," a nod to the common Spanish-language diminutive "autito" (little car), "was born unintentionally," according to Juan Manuel Baretto, CEO of Coradir, a technology company that had never once built a car.
As electric car sales accelerate more and more each year, with Europe and China leading the way, in Latin America that trend is much slower. The transport sector is highly oil-dependent, and Argentina is no exception. Despite this, the government is promoting an electromobility bill that would force every car manufacturer to build only electric cars in the next couple of years.
In 2018 Coradir's CEO and his team decided to develop a battery bank platform, motor train and all the associated electronics so that any national car manufacturer could develop its own version of TITO, but the project fell flat.
"Then, we realized we already had a complete car and asked ourselves, 'what if we make it available to the public?' At that moment the 100% electric TITO was born," explained Baretto.
Its development began in 2020 and the first units were built as demo vehicles in the second half of 2021. Finally, serial production was launched last January. The basic edition costs around USD $16,500 and you'll pay around $18,250 if you want air conditioning.
Coradir, a tech-company historically dedicated to computers and telecoms, had no background in the automobile industry. "Every two or three years we try to develop product lines that take us out of our comfort zone and face new challenges, and this is one of several changes that we made over the years," Baretto told Argentina Reports.
"TITO" is a 2.83 meter long, three-door urban car, with enough space for four people. It has a 4.5 kWh powered electric motor which receives its energy from a lithium battery with an eight kWh capacity. It can drive up to 100 kilometers (62 miles) with one single charge, and it takes between six to eight hours to fully charge, although it admits partial charges. Out on the open road, the compact cruiser races to a maximum velocity of 65 km/h.
Argentina has historically relied on natural gas and oil as its two main energy sources. As a country that has signed the Paris Agreement and has developed a set of goals to lower its emissions, it faces the huge challenge of decarbonizing the transport sector.
Earlier this year, President Alberto Fernández sent the "Electromobility Bill" to Congress which, if approved, will prohibit the manufacture of vehicles with internal combustion engines from 2041. "We will develop electromobility to turn Argentina into the South American platform for electric vehicles," he said.
When asked about the environmental ambitions of the company, Baretto explained, "The respect for the environment is always in sight. In 2009 our company obtained the first international environmental certificate ISO 14001 and this changed our minds. Since then, the bases of sustainability and care for the environment are part of all our projects."
"The increase in the use of renewable energies is very welcome, but it is still insufficient to power the whole society, but we must continue fighting and moving forward," he said when asked about the company's views on fossil fuels and "green" energies.
Nowadays, the company is producing 80 cars per month, but they look forward to increasing production to 200 monthly units. "The new production level will be set according to public demand, which for the moment is more than excellent," said Baretto.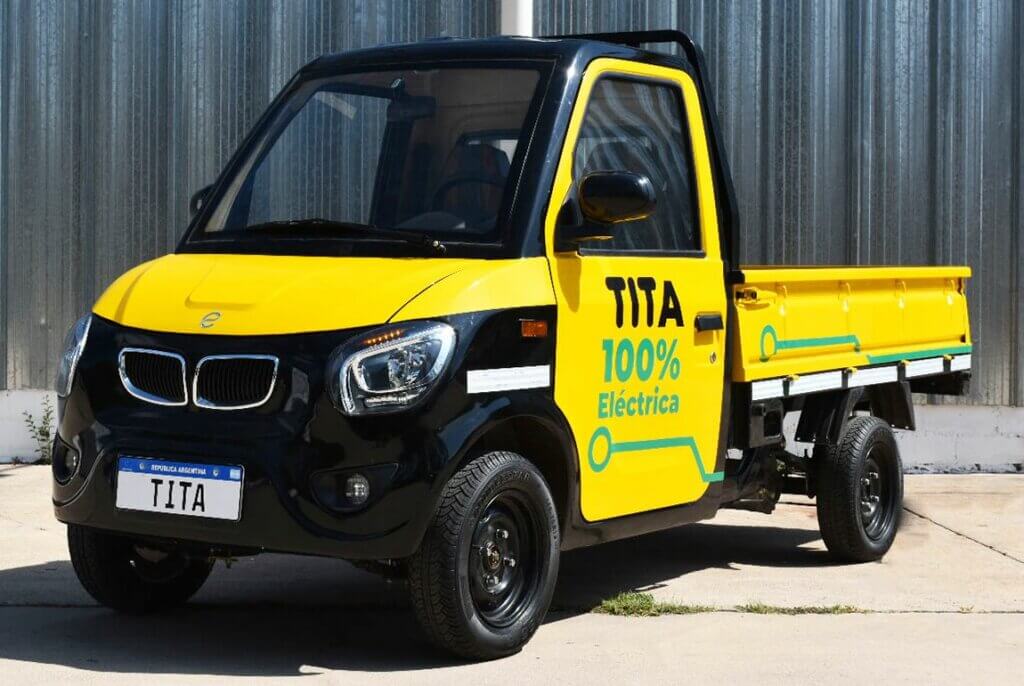 The company also announced the launch of "TITA," a pick-up truck version of its predecessor that borrows its name from the femine version of TITO. "Many customers told us that they loved TITO but that they needed a work tool, so that is how the 100% electric TITA was conceived," the CEO said.
"We want to fill cities and industries with 100% electric TITO's and TITA's, not only to make the advantages of electromobility available to the public (zero emissions and very low noise pollution) but also because, in addition to being very necessary, it is the technical path right where we should go to ensure a sustainable future and cleaner cities with a better quality of life."