Buenos Aires, Argentina — Argentina reopened its embassy in Dhaka, Bangladesh after its soccer team received a massive and viral outpouring of support from the Asian country during the 2023 World Cup in Qatar.
Call it football diplomacy. The administration of President Alberto Fernández reopened the embassy on February 27 after it was closed 45 years ago during the dictatorship of Jorge Rafael Videla.
The decision followed a huge show of solidarity from Bangladeshis for Argentina's national team and superstar Lionel Messi.
Many videos went viral online showing thousands of Bangladeshis watching the games late at night, wearing Argentina's white and blue jerseys, and flooding the streets of the country after each win.
And it doesn't seem that Bangladeshi fanaticism for the Argentine side is new to last year's World Cup.
Videos from fans there celebrating Argentina's Copa América win in 2021 had also gone viral, and a Facebook group "Argentina Football Fans Group of Bangladesh" was created in 2017 and now has almost 600,000 members.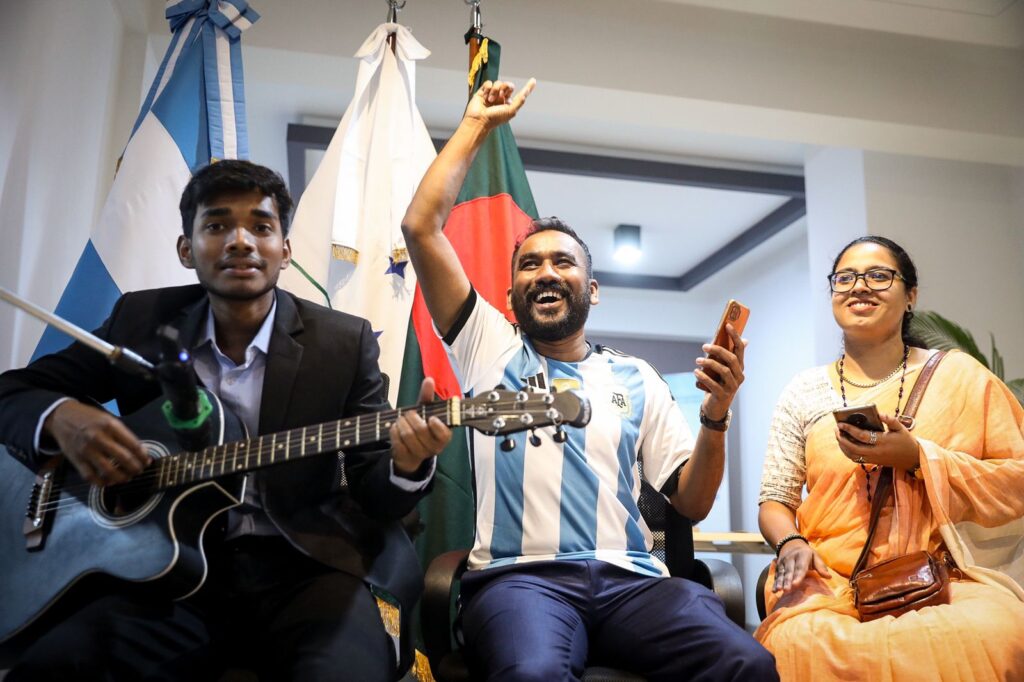 How did the love start?
To understand the obsession that Bangladeshi soccer fans have with Argentina, we must examine the history of the country and its relationship with the United Kingdom.
During British control of the Bengal region in the first half of the 20th century, the territory suffered many famines, the worst being in 1943, which killed 3 million Bengalis during World War II.
In 1986, Argentina — led by Diego Maradona — beat England in the World Cup quarterfinal, just four years after the end of Malvinas war.
In Bangladesh, this victory was widely celebrated and it forged a unique relationship between the two countries, and signs of solidarity with Argentina have popped up ever since.
For instance, when Maradona died in 2020, a minute of silence was held during Bangladesh cricket games, their national sport.
The new embassy
With the reopening of the embassy, Argentina will look to promote exports and investment in a strategic Asian country with 170 million inhabitants.
"We came to Bangladesh to humbly repay the love that our country received," said Santiago Cafiero, Argentina's Minister of Foreign Affairs, during the inauguration of the embassy in Dhaka.
Cafiero visited Bangladesh with a business delegation to close deals mostly in the grain, food and sports industries. Many executives of Argentine private and public companies already started closing deals with their Bangladeshi counterparts. "What the love of Bangladesh showed towards Argentina is that in this time of uncertainty, where the world is debating in a war, we must strengthen the bond of the global south, strengthen that agenda and focus on the dignity of people," said Minister Cafiero.