Sergio Massa became Argentina's new Minister of Economy on August 2 after his predecessor, Silvina Batakis, resigned less than one month into her term. The appointment of Mr. Massa, a veteran politician with ties to Washington, calmed volatile markets.
Mr. Massa's appointment came as a surprise amid months of economic uncertainty, but investors seem optimistic about the new minister, with black-market USD rates falling from $326 pesos per dollar to $282 just days after the announcement and Wall Street shares of Argentine companies rising from 1% to 12%.
The new minister is widely known at home and abroad, having served for years in Congress and as the chief of staff for former President Cristina Fernández de Kirchner (who is currently serving as vice president).
He's also supported by Argentina's business elite, including media moguls José Luis Manzano and Daniel Vila.
Mr. Massa also has strong ties to the United States on both sides of that country's political aisle. He's reportedly cozy with former New York Mayor and Trump lawyer Rudy Giuliani, as well as Bob Menendez, the Republican senator who presides over the Senate Foreign Affairs Committee.
And local media report that the new minister has been cultivating a relationship with Juan González, the special advisor on Latin America to President Joe Biden, and the two have dined together in both countries recently.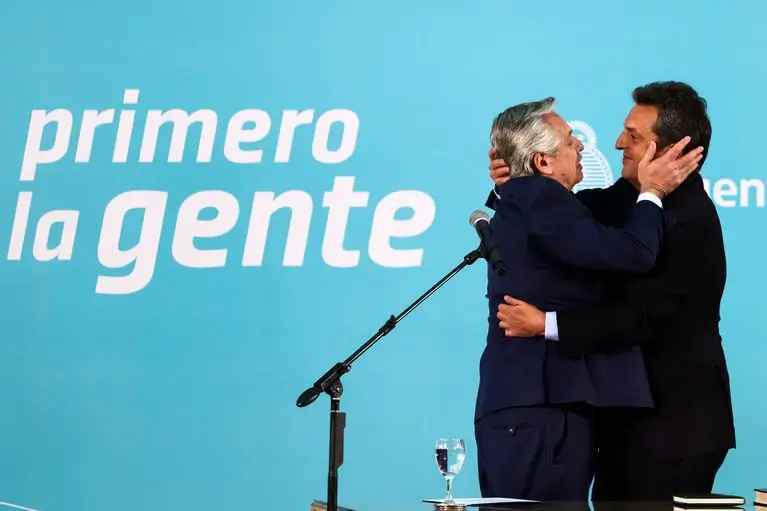 A tough road ahead for the new minister
Taking the reins of an economy with spiraling inflation that is expected to reach 80% by the end of the year, Mr. Massa will face numerous challenges during his term that could affect his future political fate.
If he's successful in righting Argentina's economic ship, he could be a strong contender for the presidency in 2023. If he fails, it could signal the end of his presidential aspirations.
Mr. Massa is expected to meet with officials in the United States, France and Qatar in the coming weeks to help calm the country's debtors, which include the International Monetary Fund, Paris Club and numerous investment funds from the Middle East. 
He also announced a series of measures to reduce the fiscal deficit and try to stabilize the exchange market. Raising energy bill prices, incentives for the mining, agricultural and oil industries, and a rearrangement of social welfare programs, are also among his main objectives